obsah (.pdf 27 kB) - signatúra: lmaoskUč 5457
Podrobnosti:
This Decision-Making Guidebook can be used by commanders and staff at the tactical level as the Universal Manual for execution of national and/or international exercises organized at the Armed Forces Academy for military education purposes, specialized career courses as well as for a multinational HQ pre-deployment training.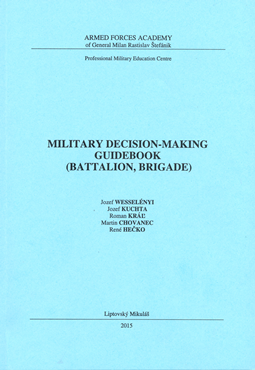 Autori: pplk. Ing. Jozef WESSELÉNYI a kol.
Náklad: 80 výtlačkov
Počet strán: 138
Vydanie: prvé vydanie
Formát: A4

Väzba: brožovaná väzba

Jazyk: anglický jazyk

Rok vydania: 2015

ISBN: 978-80-8040-525-0
Signatúra: lmaoskUč 5457
Vydavateľ:
Akadémia ozbrojených síl generála Milana Rastislava Štefánika,
Demänová 393, 03101 Liptovský Mikuláš 1